MOVIE REVIEW: MY WIFE AND I
My Wife and I

is one movie I anticipated seeing this October. I couldn't wait to escape from home away from the

ASUU

strike brouhaha. And you know what? Immediately, I arrived Ibadan, the first thing I did was to head to the cinema after dropping my luggage in the hostel. I was that anxious to see the movie because of a few reasons.

1. Ramsey Noah was the lead actor. And my oh my! Ramsey is my celebrity crush every day! He always kill every performance. After

figurine

, he killed

30 days in Atlanta

. So, what would stop him from killing this one?
2. It was a character switch movie. Yes, people were saying that they copied an american movie but why should I care? As long as its a Nigerian thing, I would support it all the way! And after seeing the fiction,

Banana Island Ghost

, what else would stop me from seeing this unrealistic fiction?
3. Wedding Party attachment. When they were hyping it, they wrote - '

FROM THE MAKERS OF THE WEDDING PARTY'

. Wedding Party was a back to back hit, yea? So, what would stop this one from being a hit back to back and front to front?
4. The Hype. Sometimes, we are pushed to see a movie just because of the hype. This was also my case.

After all these, did I enjoy it? And was it worth all the hype? Y'all would get to know ASAP.

MOVIE REVIEW

:

10 DAYS IN SUN CITY

CINEMA EXPERIENCE
I went in company of a friend. There was quite a large crowd there. I didn't expect less as its such a big movie and we in Ibadan know exactly how well to respond to a good movie, I suppose. I and my friend couldn't sit at the back since it was crowded. So, we found two seats in front. I hate sitting in front but what could I do? The movie had already started when we got in and it pained me to my bone marrow. Let's say 10 minutes after. But we still understood the movie anyway.
MOVIE REVIEW
:
ALAKADA RELOADED
MOVIE REVIEW
PLOT
The movie is all about a particular couple Toyosi acted by
Ramsey Noah
and Ebere
(Omoni Oboli).
They've been having some marriage issues for a while and do not seem to get the hang off it
In a bid to solve their problem, they decide to visit a Pastor
(Seyilaw)
who counsels and leads them into a brief prayer session which eventually changes the course of their lives
Toyosi has always been known to their two kids as the calmer and approachable dad while Ebere is the very strict and distant mom. After the prayer sessions, they return back to their abode. On waking up the next morning, they realize that they have switched bodies to their amazement.
Unable to get the hang off it, they start screaming and wondering what is happening to the amazement of their two kids. Eventually, they decide to keep it discreet from them and act normally.
Unfortunately, they are unable to discuss at length and even breath well in their new bodies when they wake up the next day to attend to their various works. Toyosi owns a struggling fish farm business while Ebere works in a top organization. Neither of them knows jack about the other's business and they have to pull through series of explanations by the other.
However, they return to the Pastor who prayed for them earlier, bidding him to return them back to their bodies but the pastor appears dumbfounded and confused about the situation.
Unknown to them, the situation helps in bringing them closer as they begin to learn things they never knew about each other. They both learn about the other's business and they also learn what they've been ignoring in their children's welfare.
Later on, the children find out about the happening. With the help of Ebere's friend
(Shola Fapson),
Toyosi learns that his wife actually loved him and Ebere also learns about the immense love of her husband. This also goes a long way in fostering their relationship.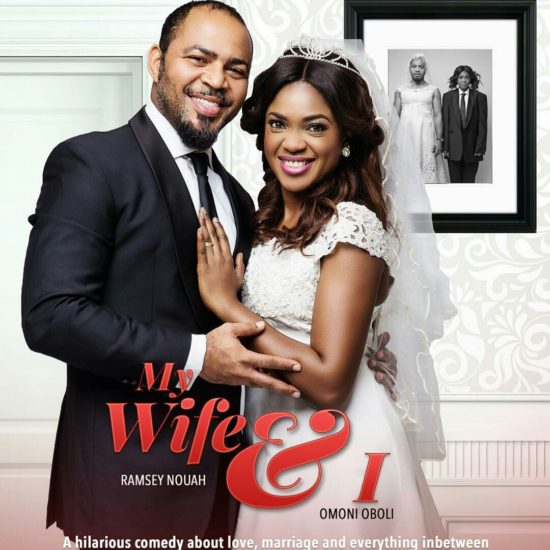 On a particular day, after all the paparazzi, they eventually have sex which connects them together. When they wake up the next morning, they each wake up in their real bodies.

THE END


MOVIE REVIEW

: HAKKUNDE

MY COMMENT
You know, all through the movie
ehn
, I and my friend were alternating between our phones and the screen and this is very much unlike me. This shows that this movie was not only below my expectation but tad bit boring...truth be told. After the movie, I texted my friend that I just finished seeing My Wife and I and she said,
'Uh! That film that is not even interesting. Its kuku one guy that paid for it'
Lol. Anyway, they tried
sha
but they should keep the hype for
The Wedding Party 2
or some other movie. This should have been a great movie but I really can't pinpoint what was wrong with it. It's not about how unrealistic it is.
Banana Island Ghost
is as unrealistic but was a major hit. I think they dragged too many scenes for too long. Like, the part Toyosi was interacting with Shola Fapson, there were too many scenes of it and it was damn boring! I couldn't wait for the next scene.
Omoni kind of over acted her part. Ramsey was on point. He nailed his part not because I like him but because he nailed it in all honesty. The kids tried as well. Shola was very boring unlike her role in
Banana Island Ghost
. Perhaps, she doesn't suit a calm kind of role. Seyilaw as the Pastor was okay. In many ways, the couple didn't connect. However, they tried and delivered but I assume, it could have been far much more better!
MOVIE REVIEW
:
BANANA ISLAND GHOST
MOVIE SCORE
42/100
MOVIE REVIEW:
ALTER EGO

(P.S - All pictures used in every of my movie reviews are from google.com)
Thanks For Reading!!!💗💋
EMETE